Among coloured gemstone rings, one that have enjoyed unbridled popularity through decades of changing trends is ruby rings. Stunning, symbolic, and full of features, these rings have always been the the crowning jewel of colour gem rings.
Precious and expensive, ruby rings are lustrous and breathtaking pieces of jewellery that make every ensemble infinitely more interesting.
What Does A Ruby Ring Symbolize?
Through history, rubies have been viewed as the symbol of romance, love and passion.
Their vibrant red colour is seen synonymous with the energy of love.
For centuries, rubies have been symbols of a lot of things, and ruby rings bearing part of that same symbolism.
Back in time, in some cultures, ruby rings were worn as talismans.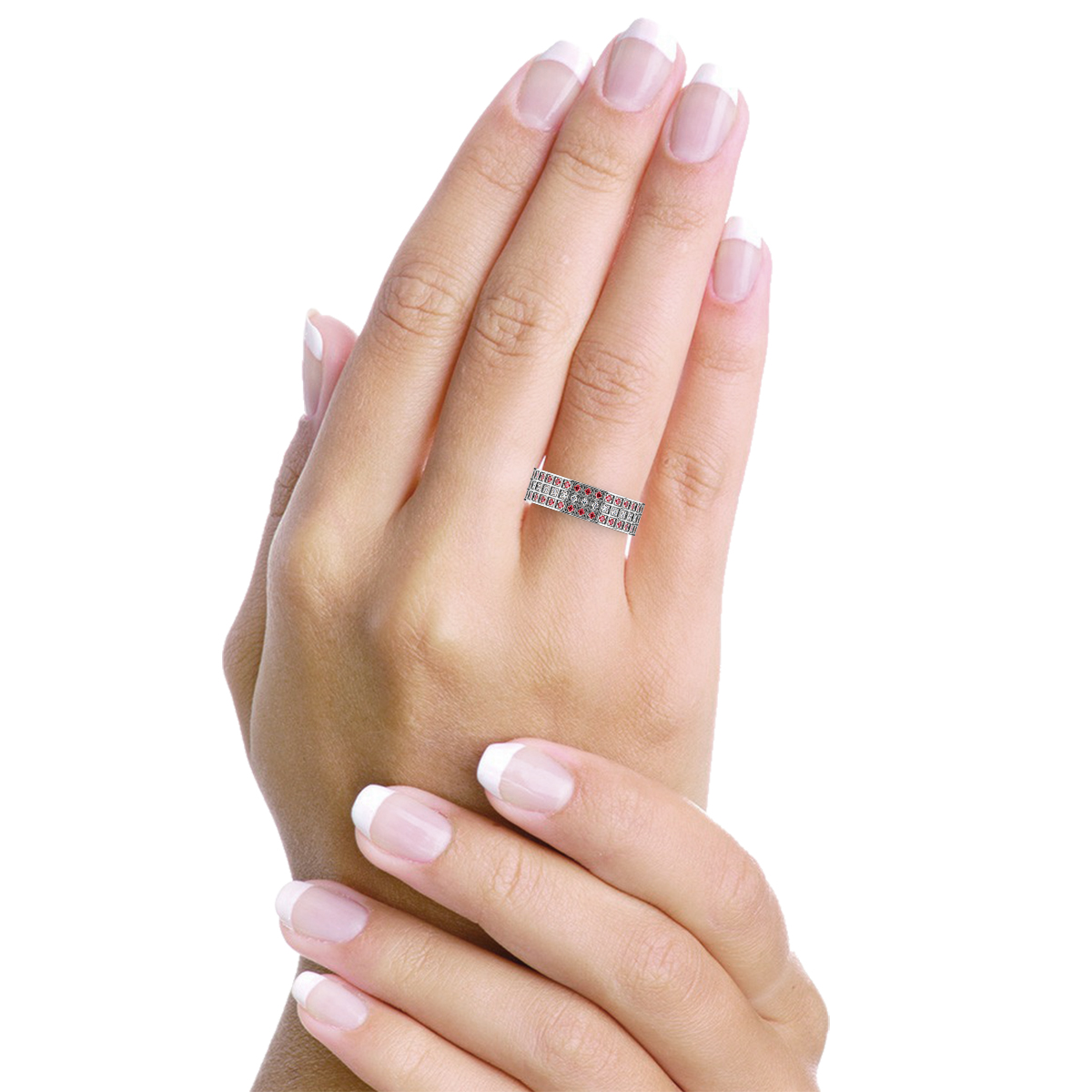 It was believed that the mystical powers held by the stone extended a level of personal protection to the wearers of these rings which make them talismanic in quality.
Guided by this belief, some people used to wear them in their left hand as the left is the side where the heart is. This they believed ensured a peaceful living.
The talismanic powers of a ruby ring were in those days believed to be so immense that they could prevent charlatans from usurping other people's land, or even rank.
It was the thing that saved them from perils.
Ruby rings also have a symbolic association with blood. Rubies, as you must have seen have a rich bloody-like red colour.
That colour gives it a strong association with blood, the life force of humans.
Astrologically, it is believed that individuals who have put their lives at risk for any reason has a special connection to this red gem.
In ancient Burma, ruby rings are the rings of soldiers.
For those souls fighting for their country, this ring bestowed certain invincibility in the battleground, an invulnerability that makes them enduring to battle wounds.
Their ruby rings keep them safe from lethal wounds of guns, swords, and spears.
Ruby Engagement Rings
If you are out shopping for a stunner engagement ring, it'd be a disservice to not nudge you in the direction of the ruby engagement ring gallery.
This section will leave you wanting for more. A massive trend in the current time, ruby engagement rings are pretty big deals in proposal stories.
At this point, when the attention of the masses is fixed on rubies, choosing ruby engagement rings is marked as good taste.
Diamonds are great, but they are predictable and also not as meaningful as rubies in the present context.
So now that you are on the path of finding your woman the most amazing ruby engagement ring there is, let's take a quick look through the many meanings of this ring.
A ruby engagement ring has many meanings, some closer to love and romance than others.
It is a close association with rubies and romance which make ruby engagement rings extra special in marriage proposals.
There are many reasons why ruby is the right stone to put on an engagement ring.
It is jaw-dropping sure, but it also has deeper connections with the emotions of love and passion.
Ruby invokes in its wearer's feelings of love and passion for their partners. That's one of the key reasons why some people choose rubies over diamonds for engagement rings.
The Name of Ruby comes from the Latin Word Which are "rubber" the meaning of it is red. That colour has, for time immemorial been linked to love and life.
Given this association, the connection of rubies to romance is no surprise. The colour is also symbolic of great power, given that it was a gem of royalties back in time.
So, faulting a ruby was at once point seen as mark of power, of privilege, and of royalty. Even today, ruby is a precious gem, ruby rings, elaborate statement pieces.
If you are looking for some amazing rings with rubies and diamonds on them, then the following designs will make your imagination run wild. Below are some of the most inspiring designs in diamond and ruby rings that have arrived in the market in recent times.
· Center Oval Diamond Halo Paved Design: This one features a chunky oval-cut ruby in the middle embraced with a sparkling diamond band. The arrangement is set on a heavily diamond paved thin band. This one is all about elegance and affordability.
· The Royal Marquise Ruby and Diamond Design: Among designs featuring diamonds and rubies, this one is a front-liner. This design comprises of a delicate Marquise-shaped ruby at the core, bordered with gold and haloed with diamonds that are arranged into a bigger Marquise. The ring is set on a pair of skinny bands separated in the middle.
· Emerald Cut Emerald and Diamond Design: This one is more for the unconventional bride who is into angular designs. This one features an emerald-cut ruby flanked by two diamonds of similar shape. The whole arrangement is bordered with diamond haloes that go around to give it a sharper and more prominent silhouette.
Ruby Rings Flaunted by Celebs
The craze for rubies is not new among the celebrities. Ruby has been in in the engagement ring section for many years now. Celebs with iconic sense of fashion led the way making these spectacular rings a smashing trend worldwide. Below are some of the most famous ruby rings seen in recent times:
Victoria Beckham's Gigantic Ruby Ring
It's no wonder that Victoria Beckham's bauble opens the list of most fashionable ruby rings among recent celebrities.
Her husband, the footballer David Beckham has a habit of gifting her boastfully big and supremely stylish gemstone rings on their wedding anniversaries.
This ruby ring is one of those lucky gifts. Her ruby ring is in a word outstanding. It features an enormous oval-cut ruby embellished with a thin band of sparkling diamonds. Floral-inspired, the ring features an equally stunning band paved with micro-diamonds.
Katy Perry's Jaw-Dropping Ruby Engagement Ring
Katy Perry's engagement to Orlando Bloom happened on the Valentine's Day. The actor proposed with an incredible ruby engagement ring featuring a decent size oval-cut ruby at the heart and shimmering round-cut diamonds on the outside. Vintage, the ring looks like an elegant gems-stone flower.
Eva Longoria's Swoon-Worthy Diamond Halo Ruby Ring
Eva Longoria's taste for unconventional jewelry is no news. So, it's no wonder that she appears on this list.
In 2015, the actor's husband Jose Baston gifted her an enigmatic ruby ring that turned heads at first sight.
The the ring features a round-cut blood-red ruby at the centre and a border of chunky diamond halo set with round-cut diamonds.
The band is a split shoulder, paved one which cranks up the glitz and glamor of the ring.
Princess Sarah's Iconic Ruby and Diamond Ring
The Duchess of York's ring is truly an awe-inspiring piece. In that, she followed to lead of her sister-in-law, the late Princess Diana in choosing her ring by matching it with her hair.
The ring features a lovely Burmese ruby at the center, oval in shape surrounded by 10 Marquis cut diamonds.
Jessica Simpson's Dainty Ruby Ring
Jessica Simpson's pretty ruby ring is among the most iconic rings of recent times. Designed by Neil Lane, her ring features a cut five-carat ruby flanked with laterally set pear-cut diamonds.
To sum it up, natural ruby rings are a great choice for proposals. They also make great additions to any collection.
Thus, if you are planning to upgrade your collection and make it a touch more interesting, without breaking the bank, it's a ruby ring you want to get.
Check out the wide range of ruby rings available in the stores to pick find the ring of your choice. For perfection and uniqueness, get it customized with the stones of your choosing.